Quality Custom Mouthguards Available In Monkton

A mouth guard is worn to protect your teeth, jaw, and entire mouth when you are playing sports or during any activity where you feel your teeth might become damaged or injured.
At Hereford Dental Health in Monkton, we support your dedication to a healthy lifestyle and we are committed to keeping your mouth safe and healthy while you stay active by advocating the use of custom mouthguards! We proudly offer Under Armour Mouth Guard brand mouth guard, custom mouthguards that are created and specially fitted for your mouth.
In addition to offering excellent protection, the Under Armour mouthwear appliance provides enhanced performance benefits for athletes who participate in contact and non-contact sports. Forget the sporting supply stores in the Parkton – Sparks MD area, come to our office for the best mouth guard.
Significant Protection with a Bonus!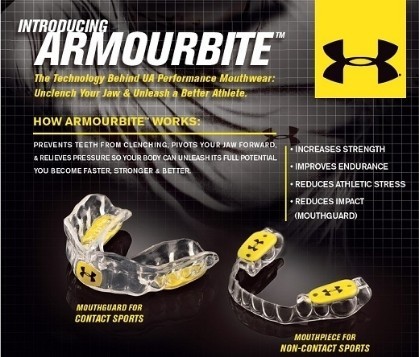 When you play hard, chances are you clench your jaw, which causes stress. Stress is not a good thing while competing because when you clench your jaw (or your TMJ) your body releases hormones such as cortisol. Cortisol has been proven to negatively impact your performance.
Under Armour Mouth Guard ArmourBite® rotates so your jaw is positioned forward. This keeps your jaw from clenching.
No hormones are released, which increases the possibility that you will sustain more energy you can put toward your athletic performance.
The ArmourBite® Mouthguard (featuring patented Power Wedges™) sustains your energy while keeping your mouth safe. This is a proven mouth guard system, supported by information gathered from many scientific studies.
What are the advantages of using custom mouthguards by Under Armour Mouth Guard?
Under Armour custom mouthguards' ArmourShield™ technology uses patented Bite Flex™ and ArmourPlate™ technologies to provide higher-impact protection to teeth, jaws, and gums, which will reduce the likelihood of needing a tooth implant, dental bridges or other restorative dentistry work.
Even though your teeth and jaw are protected, it is still easy to talk and breathe while wearing a mouthguard.
Custom mouthguards are created for your individual fit and needs.
Custom mouthguards fit snugly and don't jostle inside your mouth.
An Under Armour Mouth Guard that is created especially for you offers more protection and is more durable than those you can purchase off the shelf from stores in Parkton and surrounding areas.

Contact Hereford Dental Health for a Custom Mouthguard!
If you are actively pursuing an active lifestyle, call our office in Monkton, near Sparks, MD, today, and we will fit you for an Under Armour Mouth Guard. Better athletic performance and safety are yours for the taking!