Clear Braces Available In Monkton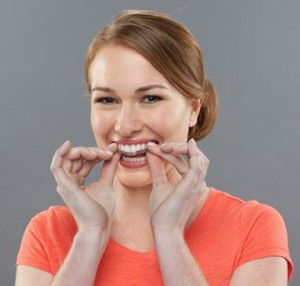 Do you have crooked teeth and wish you could get a beautiful smile but aren't sure which system is best for you? There are many braces options to straighten teeth and all have their advantages. One system, Invisalign treatment clear braces, is an excellent choice.
Why? Because Invisalign clear braces have a system to straighten teeth that works–quickly, easily and with less pain.
How does the Invisalign treatment work to straighten teeth?
The first step is establishing that the Invisalign treatment clear braces are right for you. Dr. Longenecker will partner with you and give you an exam and consultation.
If Invisalign clear braces to straighten teeth is for you, he will gather the information and send it to Invisalign's lab.
When the Invisalign treatment trays arrive, your dentist will sit down with you and explain their use and care.
Invisalign clear braces use a set of clear aligner trays to gradually, consistently and progressively straighten teeth.
Every two weeks, you will put in a new set of trays. Though you may experience slight discomfort when you first put in the new set, you will probably feel far less pain than if you had traditional metal braces.
Dr. Longenecker will give you several sets of trays at each appointment so you won't need to come into our Monkton dentist office as often.
When you want to brush and floss, you simply take out the Invisalign treatment trays. You also remove the trays when you eat or drink. Other than that, you leave the trays in and because they're invisible, you can smile and laugh and get your photo taken without embarrassment.
Using the Invisalign clear braces system to straighten teeth usually takes less time than traditional metal braces.
Questions About Invisalign? Schedule a Consultation Today!
To straighten teeth, we think you'll agree that Invisalign treatment clear braces are a great choice. Call us in Monkton today and we can tell you more about this amazing system if you are in the area, including Parkton and Sparks MD!