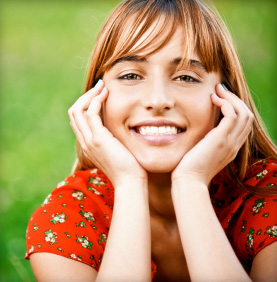 Do you wish for a fabulous smile but think it's impossible? Maybe you think that only movie stars can have amazing smiles. We are here to let you know that this isn't true. Anyone can have a terrific smile.
Never underestimate the power of your smile.
So often, the first thing we notice about a person is their smile. If it's a gorgeous smile, we notice it even more! It's funny, but most people who have a gorgeous smile always seem to be sharing it.
And why not? A beautiful smile is worth sharing. It is really incredible what having a beautiful smile can do for you. Some of our patients have told us they really see themselves differently, with more confidence and more self-assurance.
What does the term "cosmetic dentistry" mean?
Traditional general dentistry or family dentistry deals with the health of your smile and dental care. This means it focuses on hygiene, prevention, diagnosing, and treating oral disease.
Cosmetic dentistry, on the other hand, focuses on how your teeth, mouth, and smile look. But it isn't just about making you have a movie star smile. Cosmetic dentistry procedures often overlap and also provide important building blocks with your dental health.
You may think that we will over prescribe or give you suggestions for cosmetic dentistry that you don't want. That will not happen here. We partner with you to come up with what YOUR dream smile will look like, and then we strive to make it happen. It's YOUR smile, and we want you to be happy with it. Your confidence, dental health, and enjoyment are our utmost priorities.